10 Traditional Greek Foods, through the eyes of a Greek!
Check 10 traditional greek foods, and learn curiosities and details of these dishes, all through the eyes of one of our partners from Greece.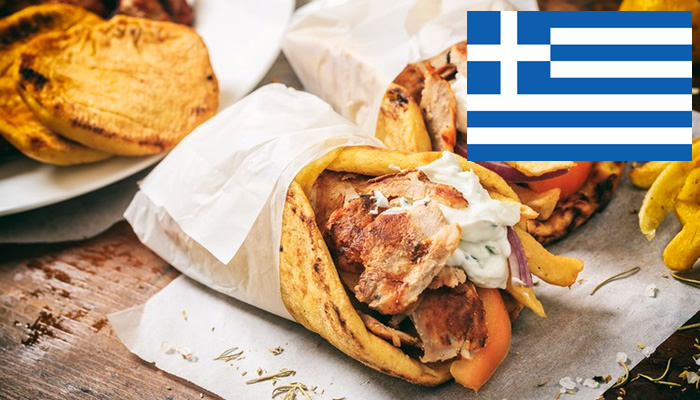 - Tempo de leitura: 5 minutos -
Greece is well known for the civilization and history of ancient Greece, including philosophy and science. But in this modern world it is famous as well for the variety of dishes that it provides.
In my opinion, the fact that makes the greek dishes unique is the mixture of European Cuisine and Middle Eastern dishes. Let's see the most popular greek dishes nowadays!
Traditional Foods from Greece
1

Gyro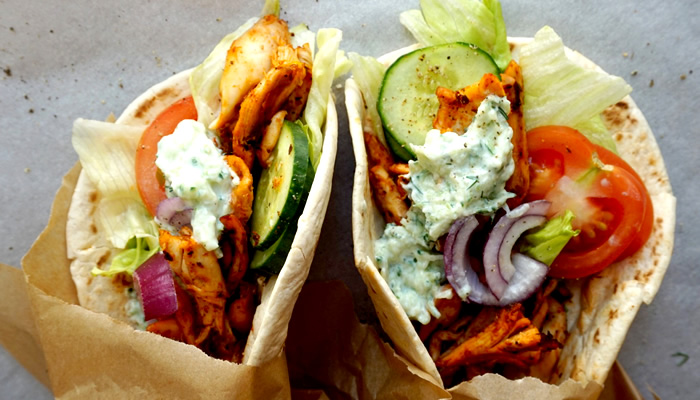 The notorious Gyros is the greek fast food that greeks love to eat, and if you'll meet one, this is the first dish that he or she is gonna recommend you!
Gyros is minced pork and chicken meat, served usually in a bread or a pita bread, wrapped mainly with onions, tomatoes, fried potatoes and the famous tzatziki, which is made of the delicious greek yogurt.
However there are many variants of this dish around the country, but, according to the greeks, Crete and Thessaloniki are the places with the best Gyros.
2

Greek Salad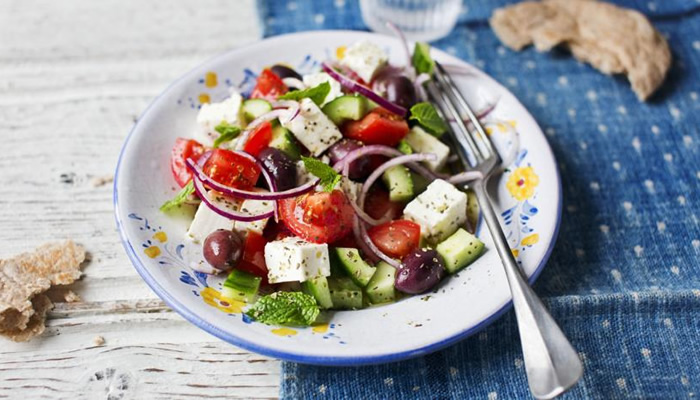 The Greek Salad is one of the most popular dishes abroad. Although it is a simple dish that contains vegetables like tomatoes, cucumbers and onions, it contains some special mediterranean ingredients like olive oil, oregano and the well known greek Feta, that gives the salad an amazing taste!
3

Greek Feta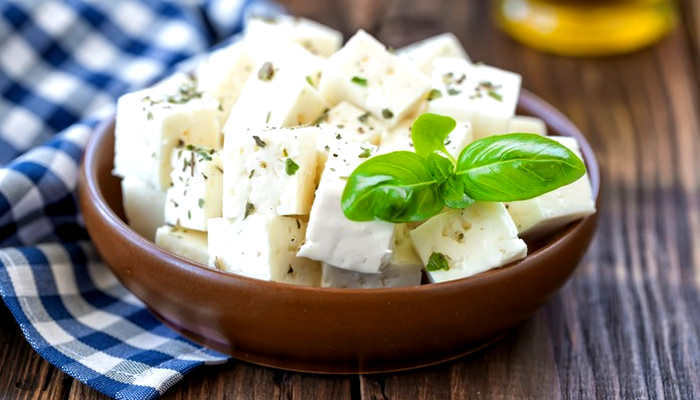 Yes, I have already mentioned this dish above, but this is a dish that needs due attention, since it is the most important side dish for every greek family (Think that my sister is banned from the family because she doesn't like feta cheese…. just kidding, haha).
By the way, feta is a grinded and white cheese made in Greece from sheep's milk or from a mixture of sheep and goat's milk. This cheese is the side dish for many popular greek foods, salads and pastries, and it is considered as one of the best cheese all over the world!
4

Moussaka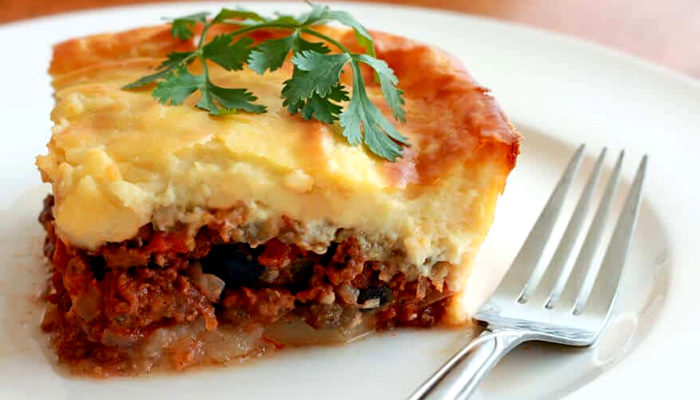 Greece is one of the most visited places all over the world, specially during the summer. It's almost impossible to find a tourist that doesn't know Moussaka. If you tell the people abroad that you are greek, definitely Moussaka is one of the greek words that they will pronounce! 
Aubergines, mince, potatoes, bechamel sauce cream and bread crumbs are the ingredients that synthesize one of the most tempting dishes of greek gastronomy.
5

Pastitsio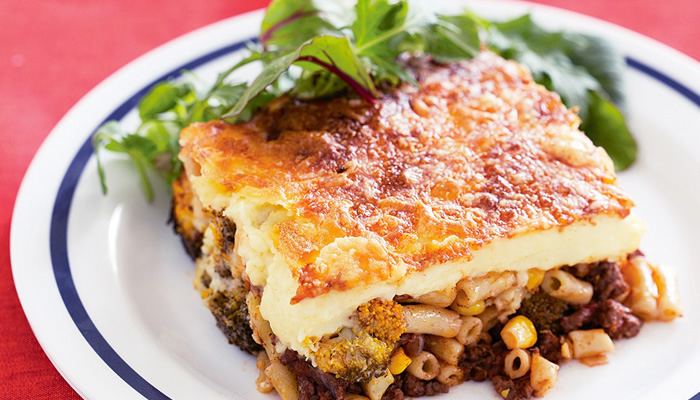 Pastitsio is a greek traditional food with italian roots, and its name comes from the latin word "pasticium", that means pasta pie. The typical greek version is made of pasta, mince, tomato sauce, cinnamon and cloves. 
Many people liken the pastitsio to a italian food lasagna. Although they are similar, the pasta used for each one is different. Pastitsio is a must to try and definitely you can find this in any greek restaurant!
6

Papoutsakia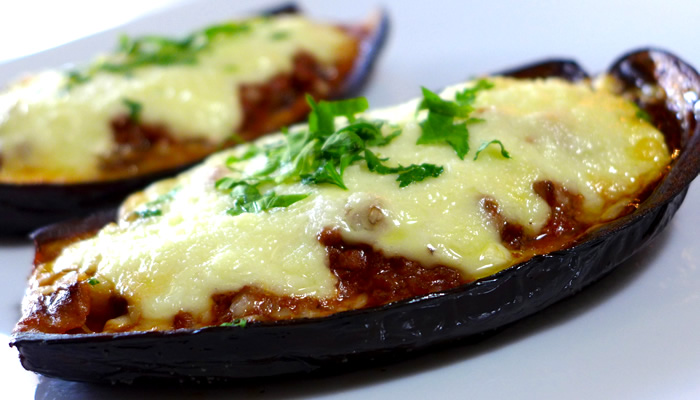 Papoustakia is one of the classic recipes you can find anywhere in Greece. You can eat this hot or cold. This is a dish found during the Ottoman occupation like many greek dishes based on eggplants. There are many versions of this dish as well, however the greek version includes a topping of bechamel sauce. 
The name of the dish comes from the persian word "papuc" and means "shoe" or "slipper", since this dish looks like a shoe. 
This "shoe" is filled of a stuffing made of greek minced meat, caramelised onions, garlic, parsley, cinnamon, red wine, olive oil and one can of chopped tomatoes. You fill the eggplants and the last step is to make the bechamel, mixing butter, flour, salt, pepper, milk, cheese and eggs.
The last step is the hardest since you have to keep the bechamel creamy. 
7

Greek Yogurt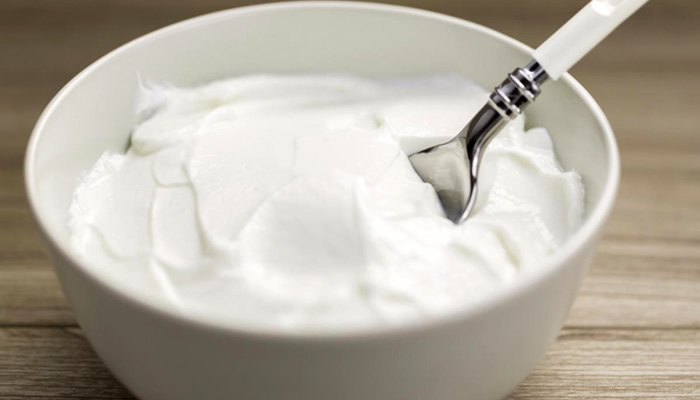 The most famous greek dish all over the world! Actually greek yogurt is just the nickname of the strained yogurt that has been strained to remove most of its whey, in order to have a thicker consistency than the unstrained yogurt, while preserving  yogurt's distinctive sour taste.
The strained yogurt is lower in sugar than the unstrained, since the process removes some of the lactose. This yogurt is often used in greek dishes and greeks love eating this with honey and pecans, and some other combinations.
8

Taramosalata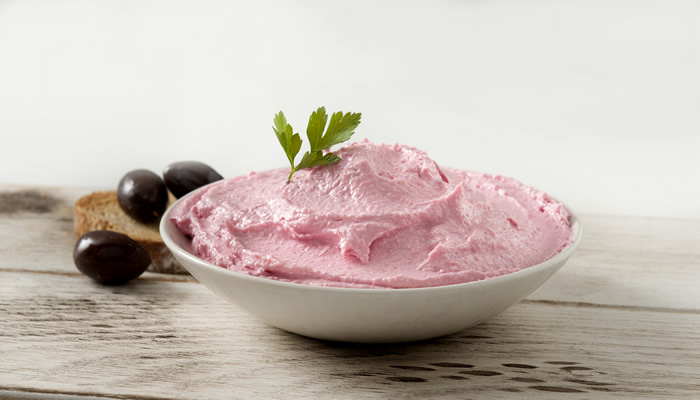 Taramosalata is a greek mezes (tapas) made from taramo, the salted and cured roe of the cod/carp, mixed with olive oil, lemon juice and base of bread or potatoes.
The classic taramos includes garlic, spring onions and sometimes vinegar, substituting the lemon juice in the recipe. Taramos consist in an important font of vitamins A and D, magnesium, phosphorus, zinc and potassium. However, it contains a lot of sodium and a lot of calories.
Greeks usually eat taramos in the Clean Monday, an important day for Orthodox christians, since this day is the beginning of Lent, and, according to the religion, the people have to avoid milk, eggs, something that taramos does not contain.
9

Tzatziki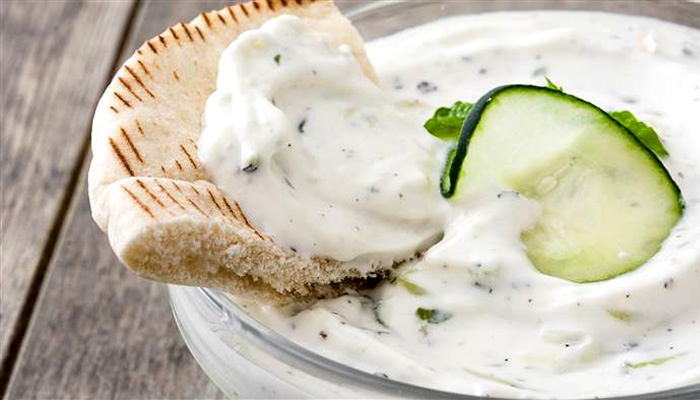 Tzatziki is another dish that I have already mentioned, but we have to tell more about this delicious meze (tapas) in case of you're thinking about visiting Greece. This dish combinates with everything, think that some greeks love eating this even plain with bread.
Tzatziki is made of strained yogurt, cucumber, garlic, salt, olive oil, lemon juice and fresh dill. But pay attention now. don't even think of dating someone if you eat this dish before.
10

Galaktoboureko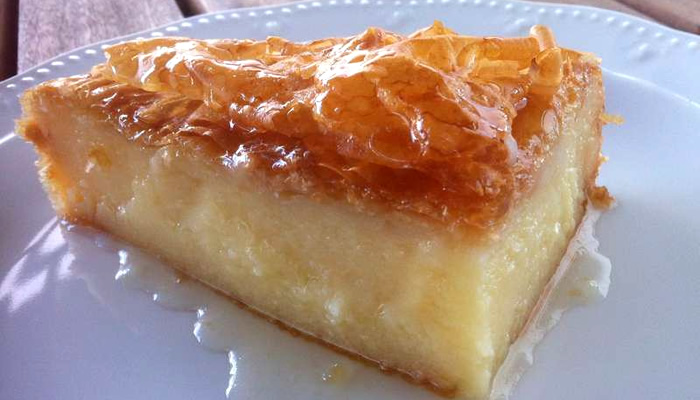 Galaktoboureko is a greek dessert of semolina custard in phyllo. Phyllo is a very thin unleavened dough used for making pastries such as Galaktoboureko and baklavas.
There are many variants of this dessert around middle east and it has been alleged that it comes from the Assyrian. However greeks use a butter made of a mix of sheep's and cow's milk with a strong flavor that makes greek Galaktoboureko unique.
---
About the Author
This article was written in partnership with the page Brazil Greece (@brazilgreece).
Konstantinos Papadopoulos, born in Greece, shared part of his knowledge about his homeland in this special article about tradicional greek foods.
Know more about the trips of the couple Laís & Constantine and get inside of this Brazil-Greece conection, by accessing their Instagram page, clicking on the image below: